Legislation recently passed by Government enables first home buyers to use superannuation to help save for a home deposit. This was an opportunity for us to create a calculator that spoke directly to fund members who are traditionally difficult to engage.
In partnership with creative communication specialists AHC, we developed a calculator which estimates the benefits of the First Home Super Saver Scheme (FHSSS) for first home buyers. The calculator compares saving for a first home deposit through the FHSSS with saving the equivalent amount through a standard savings account.
Working with AHC we mapped out what the best user experience would be and how to articulate the major benefits of the scheme. Cumpston Sarjeant developed the back-end mathematical engine that underpins the calculator. AHC, award winning user experience and creative communication specialists, designed the user interface and built the web-based front-end. Within days of launching the tool, clients were hosting the calculator on their websites and promoting the tool through their own marketing campaigns. Further proof of the importance of the work we do and how we integrate our actuarial knowledge with thought leadership and first to market technologies in conjunction with AHC.
The calculator is intended for superannuation funds, financial advisers or other entities wishing to educate first home buyers on the Scheme and to enrich their online offering. The calculator is available on a subscription basis and custom-branding is included.
The calculator is designed to comply with regulatory requirements concerning online calculators, including ASIC Corporations (Generic Calculators) Instrument (2016/207) and ASIC Regulatory Guide 167 Licensing: Discretionary Powers.
Screenshot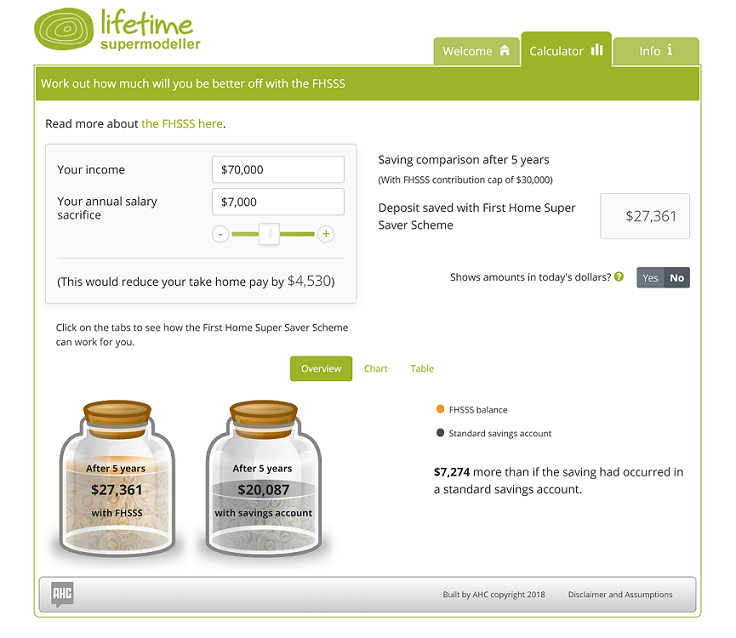 Supporting publication
We have written a supporting publication, which considers various aspects of the FHSSS, and issues which arise in comparing savings in the Scheme with savings outside of super. This is available below.
Further information
For further information please contact Paul Thomson on (03) 9642 2242.